---
 KOFAX VirtualReScan ELITE
What is KoFax VRS Elite?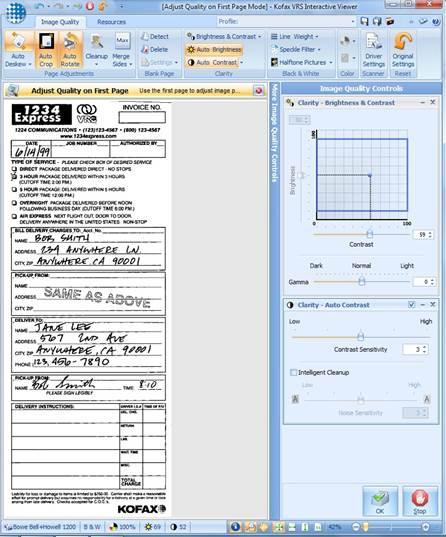 Struggling with the quality of your scans, original documents not digitising in a clear and crisp way? This doesn't have to be the case. KoFax VRS Elite is a powerful and feature rich scanner driver, compatible variations to support many document scanners, that has the capability to clear up or adjust the quality of the digital document during scanning that your existing scanner drivers just can't match. Features include the ability to remove filing punch holes, staple speckles, to bring out the text that has been highlight over, enhance the text on NCR paper and produce clear plain background documents where the default scanner drivers were picking up the fibres in the paper.
With the enhancements to your scanned documents, at the time of the scan, KoFax VirtualReScan Elite saves you time and vastly improves on the readability of your scanned images, making it easier to enable your business to rely solely on the digitised documentation and no longer requiring expensive and time consuming manual re-scanning, data duplication or archival document retrieval. Just as easily, KoFax VRS Elite will continue to scan your clear quality documents so there is no need to be swapping between different scanner drivers, but if you find the need to have different driver configurations for KoFax, you can save numerous presets for the job types that have different requirements.
KOFAX Express Scanner Software
Kofax Express is an all-in-one batch-oriented document scan application capable of high-speed scanning with real-time image display, indexing and bar code detection.
Its design is for less complex applications and makes it easy for the end user to quickly scan, index and export documents for fast and easy retrieval. Kofax Virtual ReScan technology is built into the application to ensure optimal image quality, reduce errors and exceptions, and improve system effectiveness. Kofax Express can export captured images and data to a wide variety of backend systems, including Microsoft SharePoint and Kofax Capture.
Kofax provides software solutions that automate document driven business processes by managing the capture, transformation and exchange of business critical information arising in paper, fax and electronic formats in a more accurate, timely and cost-effective manner.
Kofax VRS is a patented image enhancement software suite, designed to improve the readability and visibility of your important business documents. Offices and departments needing to access crucial information locked away in physical paper can now access this at the click of a button, in a clear, crisp way.
Benefits of introducing Kofax VirtualReScan to your scanner
Reduce Document Preparation
Automatic Colour detection (Colour documents save in colour, Black & White documents save in Black & White, saving space)
Improve Speed and Accuracy
Produce a Perfect Image Every Time
Enable Effective Distributed or Remote Scanning
Intelligent Cleanup
Automatic Profiles/Centralised Management
Improved Recognition (for OCR requirements)
Device Health (monitor scanner's performance)
Scan at Rated Speed (the processing by KoFax VRS will not slow down your scanner's rated speed)
Centralised Licensing